We have added a lot of backup servers, try them all! If there is an error, please report it so we can fix it. thanks!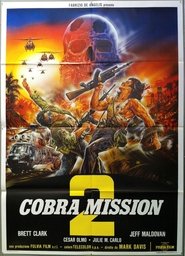 Cobra Mission 2 (1988)
A Vietnam vet who specializes in freeing POWs goes behind enemy lines on a rescue mission with a group of mercenaries.
Views: 8
Genre: Action, Adventure, Drama, War
Director: Camillo Teti
Actors: Aida M. Selman, Brett Baxter Clark, César Olmo, Charles Rack, Franklin Dominguez, Jeff Moldovan, José Guerra, Julie M. Carlo, Thomas Irving, Willy Nunez
Country: Italy
Duration: 100
Quality: HD
Release: 1988