We have added a lot of backup servers, try them all! If there is an error, please report it so we can fix it. thanks!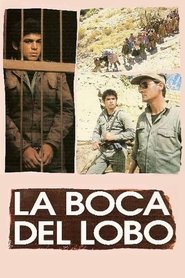 In the Mouth of the Wolf (1988)
The military anti-terrorist army takes control of "Chuspi", an unknown and faraway small village, isolated by the terrorist group "Sendero Luminoso" (Shining Path). A soldier called Vitin Luna, and other young soldiers face an invisible, perhaps superior force. Their unit is commanded by a brutal lieutenant who declares the entire village guilty of treason. In the face of this crisis, Vitin must choose between blind obedience and his own conscience.
Views: 12
Director: Francisco J. Lombardi
Actors: Antero Sanchez, Aristóteles Picho, Bertha Pagaza, Fernando Vasquez, Gilberto Torres, Gustavo Bueno, Jose Tejada, Lucio Yabar, Luis Saavedra, Toño Vega
Country: Peru, Spain
Duration: 128
Quality: HD
Release: 1988