0
(
0 votes, average: 0.00 out of 5
)
You need to be a registered member to rate this.
Loading...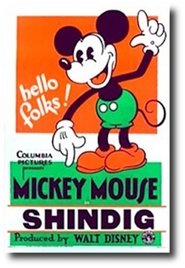 The Shindig
Another barn dance. Minnie plays piano; Mickey plays fiddle, then percussion, then harmonica. Mickey dances with the huge Patricia Pig.
Duration: 7
Quality: HD
Release: 1930
HD
6 Little Jungle Boys
HD
The Three Musketeers
HD
The Dixie Fryer
HD
O pardálu který voněl
HD
Thimble Theater
Thimble Theater
HD
One of Joseph Cornell's funniest films, Thimble Theater is structured like a vaudeville variety show about nature.
HD
Symmetry
Symmetry
HD
Symmetry is one of five shorts featured in the film "Mathematical Peep Shows." The collection was made by Charles and Ray Eames for the IBM Mathematica Exhibit which opened in…
HD
Сonfusion
HD
Jerry and the Lion
Jerry and the Lion
HD
Jerry agrees to help an escaped circus lion, whose first need is food. But first they'll have to evade Tom, who heard the news bulletin and is armed with a…
HD
Nutcracker Fantasy
HD
Enter Hamlet
Enter Hamlet
HD
Enter Hamlet is a collage of images in cartoon form of a word put in balloon in each jump-cut scene as that word is said by the narrator Maurice Evans…
HD
B.C. The First Thanksgiving
HD
Wedding in the Coral Sea
Wedding in the Coral Sea
HD
The plot involves the creatures of the sea preparing for the wedding of two fish. When the fish bride is kidnapped by an octopus all the sea creatures must team…