We have added a lot of backup servers, try them all! If there is an error, please report it so we can fix it. thanks!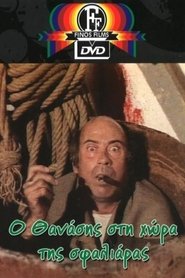 Ο Θανάσης στη χώρα της σφαλιάρας (1976)
The movie is about dictatorships in Greece – first, the Metaxas regime (1936-1940), and then the Colonels' Junta (1967-74). In Part One, the Metaxas regime is depicted as a circus, where Thanasis (Thanasis Vengos) is a clown trying to conceal a young colleague's subversive action. In Part Two, we see Thanasis suffer because of his honesty and kindness, in a country where the system's irrationality is clearly evident.
Views: 8
Genre: Comedy
Director: Dinos Katsouridis, Lakis Antonakos, Panos Glykofrydis
Actors: Aina Maouer, Antonis Papadopoulos, Giorgos Tzifos, Ilias Logothetis, Kostas Mendis, Mihalis Desilas, Mihalis Giannatos, Takis Halas, Thanasis Vengos, Vangelis Traiforos
Country: Greece
Duration: 88
Quality: HD
Release: 1976