We have added a lot of backup servers, try them all! If there is an error, please report it so we can fix it. thanks!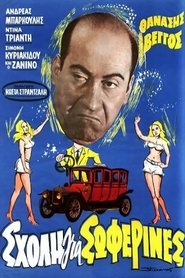 Σχολή για Σωφερίνες (1964)
Babis and Dinos have a driving school in partnership with several customers. And while fetching Dinos manages to combine a joy of life with his conquests, the Wretch Babis, left the thicker, the poor and elderly clients faculty ..
Views: 20
Genre: Comedy
Director: Angelos Theodoropoulos, Kostas Strantzalis
Actors: Andreas Barkoulis, Angelos Theodoropoulos, Athina Mertyri, Dina Trianti, Mary Metaxa, Rallis Angelidis, Simoni Kyriakidou, Taygeti, Thanasis Vengos, Zannino
Country: Greece
Duration: 74
Quality: HD
Release: 1964