We have added a lot of backup servers, try them all! If there is an error, please report it so we can fix it. thanks!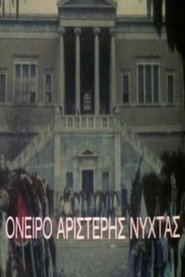 A Leftist Night's Dream (1987)
A left-wing ideologist reaches the limits of suicide, experiencing a deep crisis. He tries to write a book about everything that once existed, but has changed today. Everything around him seems distant. The friends, the family, the Party from which he withdrew. His hope for a different future is virtually dead.
Views: 4
Director: Dinos Katsouridis, Nikos Kalogeropoulos
Actors: Giannis Fyrios, Giorgos Alexopoulos, Hristina Aulianou, Kostas Dalianis, Melina Boteli, Nikolas Asimos, Nikos Alevras, Nikos Kalogeropoulos, Taygeti, Vasilis Tsipidis
Country: Greece
Duration: 100
Quality: HD
Release: 1987