We have added a lot of backup servers, try them all! If there is an error, please report it so we can fix it. thanks!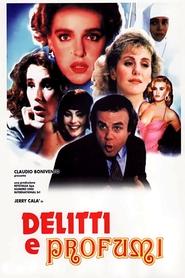 Crimes and Perfumes (1988)
Eddy is the detective of a general store. His girl is Barbara who works in the same store. Barbara receives a gift, a bottle of scent, and later she dies burned. Police detective Turoni begins to investigate and Eddy, wanting to revenge Barbara, does the same. Another girl, Porzia, is murdered in the same way and Eddy finds out that the motive of the crimes dates back some fifteen years.
Views: 22
Genre: Comedy, Horror, Thriller
Director: Vittorio De Sisti
Actors: Eva Grimaldi, Jerry Calà, Lucrezia Lante della Rovere, Mara Venier, Marina Viro, Nina Soldano, Novello Novelli, Silvia Annichiarico, Simonetta Gianfelici, Umberto Smaila
Country: Italy
Duration: 95
Quality: HD
Release: 1988