We have added a lot of backup servers, try them all! If there is an error, please report it so we can fix it. thanks!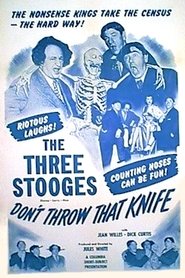 Don't Throw That Knife (1951)
The stooges become census takers and wind up in the apartment of a lady whose husband is both jealous and a knife thrower. When the husband arrives home, the boys try to hide, but are discovered, and after dodging some knives, leave on the run.
Duration: 16
Quality: HD
Release: 1951