We have added a lot of backup servers, try them all! If there is an error, please report it so we can fix it. thanks!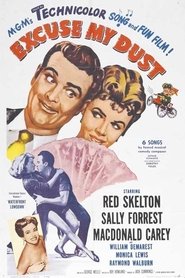 Excuse My Dust (1951)
Joe, inventor in an American Small town of 1895 has problems with his new invention, a car, driven with a gasoline motor. Everybody is making fun about his "crazy invention", only his girl friend believes in him. When he's halfway successful, another woman tries to win his heart, and his girl-friend thinks he has quit with her. But on a race for those new horse-less vehicles, he gets in trouble and only his former girl friend is able to help him.
Duration: 82
Quality: HD
Release: 1951