We have added a lot of backup servers, try them all! If there is an error, please report it so we can fix it. thanks!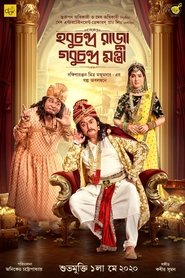 Hobu Chandra Raja Gobu Chandra Mantri (2021)
The TV film is about Hobu Chandra, the king of Bombagarh and his wife Kusumkoli. Everyone in Bombagarh was happy. Then arrives Gurjar Gobu and things take a turn when he becomes the new minister.
Views: 24
Genre: Comedy, Drama, History, Horror, TV Movie
Director: Aniket Chattopadhyay
Actors: Arpita Pal, Barun Chanda, Kharaj Mukherjee, Pradeep Bhattacharya, Saswata Chatterjee, Soumitra Chatterjee, Subhasish Mukherjee
Country: India
Duration: 110
Quality: HD
Release: 2021