We have added a lot of backup servers, try them all! If there is an error, please report it so we can fix it. thanks!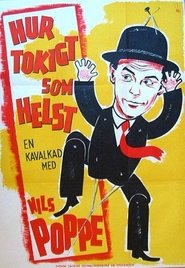 Hur tokigt som helst (1949)
"How crazy!" A man and a woman watch episodes from Nils Poppe movies outside a cinema Maxim in Stockholm. Poppe represents, among other things, a poor composer who vainly tries to get a tune adopted by a publisher. The failure makes him depressed, but he is living it up by meeting a good friend Calle, who invites him home. Poppe stays for a few days as a male housewife. Calle has a music store and there the two friends can go crazy among all the instruments.
Duration: 86
Quality: HD
Release: 1949