We have added a lot of backup servers, try them all! If there is an error, please report it so we can fix it. thanks!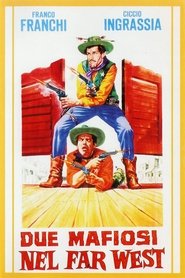 Two Gangsters in the Wild West (1964)
In the late 1800's, Sicilians Franco and Ciccio are serving 20 years of prison for stealing two mules, when they are helped to escape by an American who says he is a friend of their grandfathers, who were killed in Texas by a gang of bandits who wanted to take over their gold mine. The two friends travel to America to take posses of the gold mine, but they soon discover that they are not the only ones who want it.
Views: 37
Director: Giorgio Simonelli, Giuliano Carnimeo
Actors: Adriano Micantoni, Aldo Giuffrè, Ana Casares, Aroldo Tieri, Ciccio Ingrassia, Fernando Sancho, Franco Franchi, Hélène Chanel, Mimmo Poli
Country: Spain, Italy
Duration: 100
Quality: HD
Release: 1964