We have added a lot of backup servers, try them all! If there is an error, please report it so we can fix it. thanks!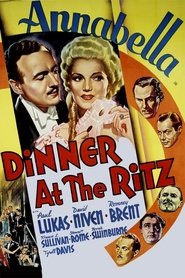 Dinner at the Ritz (1937)
The daughter of a murdered financier works as a jewelry salesperson while she tracks her father's colleagues who plotted against him.
Views: 4
Genre: Crime, Mystery, Romance
Director: Harold D. Schuster
Actors: Annabella, David Niven, Francis L. Sullivan, Frederick Leister, Paul Lukas, Romney Brent, Stewart Rome, Tyrell Davis, Vivienne Chatterton, William Dewhurst
Country: UK
Duration: 77
Quality: HD
Release: 1937