We have added a lot of backup servers, try them all! If there is an error, please report it so we can fix it. thanks!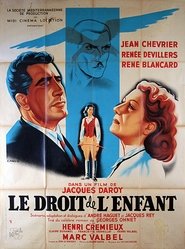 Le droit de l'enfant (1949)
Jacques Herbelin is the faithful husband of Louise and the proud father of Cécile, a kind little girl. But Louise does not reciprocate her husband's affection and prefers to cheat on him in the arms of Marquis de Condottier. The latter is a sinister character who, not satisfied with being Herbelin's wife's lover, sets his heart on their daughter, who has now become a pretty young lady. Jacques can't take it anymore.
Duration: 0
Quality: HD
Release: 1949