We have added a lot of backup servers, try them all! If there is an error, please report it so we can fix it. thanks!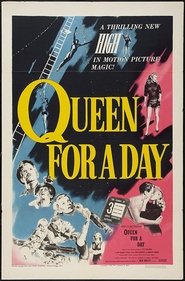 Queen for a Day (1951)
Adapted from the TV and radio series of the same name, the producer of said show reads letters from three woman providing the framing story for this melodrama anthology film. The tales focus on parenting and family struggles.
Views: 32
Genre: Drama
Director: Arthur Lubin, Ivan Volkman
Actors: Cynthia Corley, Darren McGavin, Diane Fauntelle, Fort Pearson, Helen Mowery, Jack Bailey, Jim Morgan, Kay Wiley, Melanie York, Phyllis Avery
Country: USA
Duration: 107
Quality: HD
Release: 1951