We have added a lot of backup servers, try them all! If there is an error, please report it so we can fix it. thanks!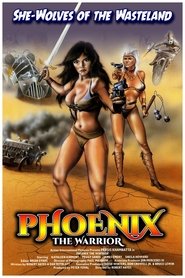 Phoenix the Warrior (1988)
Big hair, big guns, big personalities, and a serious lack of wardrobe. She-Wolves of the Wasteland, a post-apocalyptic story that features women–lots and lots of women–who leave little to the imagination as they battle each other in various junkyards and gravel pits to determine the fate of the entire world.
Views: 9
Genre: Action, Fantasy, Science Fiction
Director: Emily Liu, Kimberley Casey, Robert Hayes, Susan Bierbaum, Tom Baldwin
Actors: Courtney Caldwell, James Emery, Kathleen Kinmont, Laurie de Nuccio, Linda Santo, Nina Jaffe, Peggy McIntaggart, Persis Khambatta, Sheila Howard, Skyler Corbett
Country: United States
Duration: 85
Quality: HD
Release: 1988