We have added a lot of backup servers, try them all! If there is an error, please report it so we can fix it. thanks!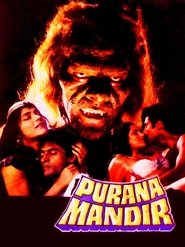 Purana Mandir (1984)
Suman lives a wealthy lifestyle along with her widower dad, Thakur Ranvir Singh, and an unmarried aunt, Damyanti, in a palatial house in Bombay. They are direct descendants of Raja Hariman Singh of Bijapur. When Ranvir finds out that Suman is in love with a middle-classed male, Sanjay, he expresses displeasure and forbids her to ever see him again. When she persists, he tells her that there is a curse on the entire family – a curse that was inflicted 200 years ago by a blood-thirsty, flesh-eating demon named Samri.
Views: 30
Genre: Horror
Director: Arjun Ramsay, Shyam Ramsay, Tulsi Ramsay
Actors: Anirudh Agarwal, Arti Gupta, Mohnish Behl, Puneet Issar, Rajendra Nath, Sadashiv Amrapurkar, Sadhana Khote, Satish Shah, Trilok Kapoor, Vishakha Chotu
Country: India
Duration: 144
Quality: HD
Release: 1984