We have added a lot of backup servers, try them all! If there is an error, please report it so we can fix it. thanks!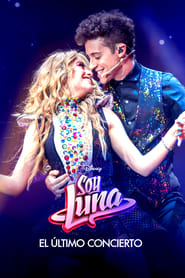 Soy Luna: The Last Concert (2021)
The "Soy Luna" cast bid farewell, live at the legendary Luna Park arena in Buenos Aires. All the intimacy backstage and a look back over the history of the series, from the first rehearsals, the shooting sessions and the tours, down to the final farewell of a series that has left its mark on millions of fans.
Views: 26
Genre: Documentary, Music
Director: Carolina María García Fernández
Actors: Ana Jara Martínez, Chiara Parravicini, Gastón Vietto, Giovanna Reynaud, Jorge López, Karol Sevilla, Malena Ratner, Michael Ronda, Ruggero Pasquarelli, Valentina Zenere
Country: Argentina
Duration: 91
Quality: HD
Release: 2021