We have added a lot of backup servers, try them all! If there is an error, please report it so we can fix it. thanks!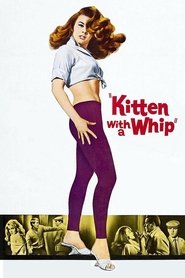 Kitten with a Whip (1964)
Straitlaced senatorial hopeful David Stratton has no idea what he's in for when he arrives home from a trip to find sexy teen Jody curled up asleep in his daughter's bed. Soon, delinquent Jody is holding David — and his plush suburban home — hostage while she hides out from the cops and throws wild parties with her beatnik pals. David, terrified of scandal, agrees to drive Jody and her friends to Mexico, a decision he regrets when the ride gets out of control.
Views: 32
Genre: Thriller
Director: Douglas Heyes, Luanna S. Poole, Terence Nelson, Terry Morse Jr., Wendell Franklin
Actors: Ann Doran, Ann-Margret, Audrey Dalton, Diane Sayer, John Forsythe, Patricia Barry, Patrick Whyte, Peter Brown, Richard Anderson, Skip Ward
Country: USA
Duration: 82
Quality: HD
Release: 1964