We have added a lot of backup servers, try them all! If there is an error, please report it so we can fix it. thanks!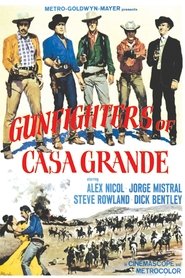 Gunfighters of Casa Grande (1964)
In this western, a gambler wins a big Mexican ranch and decides to herd all of the cattle upon it into Texas. The crook enlists the aide of a few Mexicans, but they don't realize he plans to cheat them. En route, the cattle drivers are ambushed by banditos. They survive, but during the course of the struggle, the cattle hands learn the truth and ensure that justice gets served.
Views: 24
Genre: Western
Director: Isabel Ruiz Capillas, Mahnahén Velasco, Roy Rowland
Actors: Aldo Sambrell, Alex Nicol, Diana Lorys, Dick Bentley, Jorge Mistral, María Granada, Mercedes Alonso, Phil Posner, Roberto Rey, Steve Rowland
Country: USA, Spain
Duration: 90
Quality: HD
Release: 1964