We have added a lot of backup servers, try them all! If there is an error, please report it so we can fix it. thanks!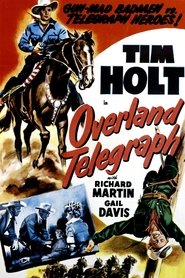 Overland Telegraph (1951)
Not to be confused with the 1929 film The Overland Telegraph, this Western from director Lesley Selander stars Tim Holt as a cowboy appropriately named Tim Holt. In order to hinder the construction of a new telegraph line for his own financial gain, scheming shopkeeper Paul Manning (George Nader) enlists the assistance of a gang of outlaws led by Brad Roberts (Hugh Beaumont in one of his many pre-Leave it to Beaver roles). Unfortunately for the bad guys, Holt and his cohort Chito Rafferty (Richard Martin) sense that there's foul play afoot and embark on an investigation.
Duration: 60
Quality: HD
Release: 1951